Facebook Pages soon will have the tools to drill down to finely targeted audiences for posts and ads with "Page Post Targeting Enhanced", providing advocacy groups the potential to tailor issue messaging by age, education, location, gender, interests, relationship status, workplace, and more. Not only will advocacy groups be able to target a given audience more accurately, but they will be able to craft messaging by demographic to best optimize advocate response. Facebook began rolling out the new feature starting with preferred marketing partners.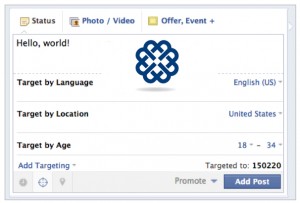 Page Post Targeting Enhanced adds a new level of sophistication to the Facebook toolbox for advocacy groups," says John Leary, managing partner at Dominion Strategies. "While different demographic groups may share an advocacy goal, the language which will successfully spur action can vary widely. The ability to hone into a given demographic with just the right message will improve advocate response rates.
Dominion Strategies has successfully engaged and motivated millions of advocates on behalf of clients. The DominionConnect™ Advocate Relationship Management solution, built on the award-winning SalesForce™ platform, unifies organizational data, communications, and fundraising on a single, collaborative platform and optimizes analytics to help motivate supporters to action.